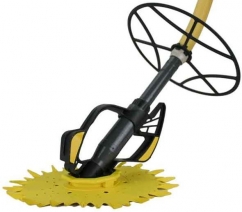 Experts in water.
APPLICATIONS
Ideal for:
• In-Ground Pools
• Above Ground Pools
• Plunge Pools
WHY CHOOSE THE Davey
PoolSweepa
Suction Cleaner?
The Davey PoolSweepa
Suction Cleaner is easy to connect
through a skimmer box or dedicated suction line of an
inground or above-ground pool. It's light weight design
combined with a high performance spiral wound vacuum
hose, enables it to move and clean rapidly across pool
floors and walls. The diaphragm system ensures very silent
operation, easy passage of debris and low maintenance
owing to just one moving part.
Features:
• Twist and lock design provides quick and easy access to
change the diaphragm
• Integrated handle facilitates carrying and lifting from the
pool
• Diaphram design ensures quiet and efficient cleaning with
simple maintenance
• Finned skirt for easy climbing over steps, main drains,
lights and obstacles
• 10.4 metres of high performance spiral wound vacuum
hose reinforced with glass fiber for extra durability
• Large circular deflector and weighted bumper to navigate
around steps, ladders, and corners in even the most
complex pools
• Climbs walls and is suitable for inclined floors
• Light weight design for rapid and smooth movement
across the pool floor and walls
• Suitable for concrete, fibreglass and vinyl lined pool
Related Products